David Bowden
Artistic Director and Conductor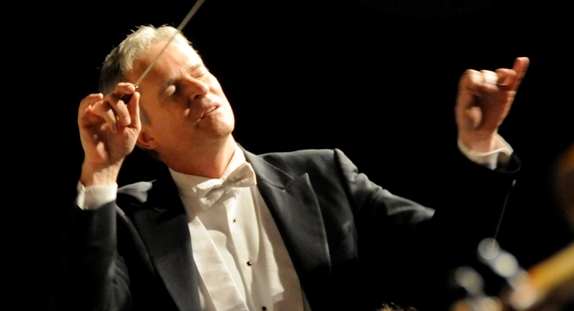 David Bowden has been the artistic leader of the award-winning Philharmonic since its founding in 1987.
Born and raised in North Carolina, David has loved music since he was a very young child.  At the age of four, he began studying the piano with his mother.  Beginning in elementary school, he was accepted as a student in piano with a piano professor at Duke University. In addition to the piano, he has played oboe, organ, clarinet, and viola.
A magna cum laude graduate of Wheaton College Conservatory of Music majoring in piano performance with a minor in organ, David has a particular love for piano and organ orchestral music. With Dan McKinley at the organ, David and the Philharmonic recorded Marcel Dupré's Complete Music for Organ and Orchestra, which was released on the international classical Naxos label. Of this release, Fanfare stated, "[The recording is] absolutely superb . . . plenty of fire and zeal."   This performance and several others have been featured on Public Radio International's Pipedreams.
While a student at Wheaton, David met his wife, Donna – a registered nurse, during an intramural volleyball game.  Graduate school took them to Bloomington, where David received his Master of Music in Choral Conducting at Indiana University.  After teaching in the college setting for several years, David returned to IU and earned a doctorate in Orchestral Conducting.
David's love of singing and choral music led him to found the Philharmonic Chorus, which has performed many choral masterpieces during David's tenure with the Philharmonic.
Dr. Charles Webb, in reviewing a recent performance, stated, "Columbus, Indiana, can be very proud of organizations such as the Columbus Indiana Philharmonic and the Philharmonic Chorus, both of which perform at such a high level of excellence.  None of these significant accomplishments would be possible, however, without the skilled leadership of David Bowden.  He is a treasure for this community and indeed for the entire state."
David enjoys performing a wide variety of repertoire – from opera to symphonic standards to pops and big band music.  He especially enjoys educational concerts for schools, hoping to inspire children to choose to learn to play an instrument, believing that making music changes lives.
Bowden has received five national ASCAP awards for programming, has been broadcast nationwide many times on Performance Today and other public media programs, and has guest conducted across the US and in Europe.  He is a member of the Pi Kappa Lambda National Music Honor Society is listed in Who's Who in America and Who's Who in the World for the past 20 years.  He has served as a member of the Board of Directors of the Conductors Guild and served as Director of the Conductor's Guild New Music Project for almost 20 years.
David and his wife enjoy traveling, exploring new places and spending time with their children, grandchildren and extended families.
---